My first author guest for Theory on Thursday- where authors share their favourite craft book - is the gorgeous and supremely talented Helene Young. She recently won the Australian Romantic Book of the Year contest and if you haven't read one of her romantic suspenses... well, what are you waiting for?
I asked Helene - if you were stranded on a desert island, what one Writing craft book would you like to have with you. Here's what she had
to say:
Only one craft book on a deserted island?
Nooooo….
Thank heavens for e-readers ;-)
But, Rach, if you're going to insist I have to choose one then I couldn't leave behind SAVE THE CAT by Blake Snyder. Couldn't, wouldn't, shouldn't!
Blake wrote Save the Cat after being a screenwriter for many years. I saw him giving an address at the RWA San Francisco Conference in 2008 after I strayed into his session by accident. I was mesmerised. His energy, his humour and his passion for good writing were infectious. Since then his book has been pivotal for me. It made me pay attention to my pacing and my story arc, to the rhythm of my words and to the expectations of my readers.
I write Romantic Suspense so perhaps it, more than other genres, lends itself to the same considerations as screenplays, but also I think all stories – in film or print - follow a story arc that instinctively mimics our myths and legends.
If you love The Hero's Journey, by Christopher Vogler, but find yourself bogging down in some of the drier sections, then Save the Cat is a less technical, easy reading proponent of a similar philosophy. Blake breaks stories down into three acts and talks about the build up of each act. He talks about the turning points, the black moment and the blackest moment. He gives practical examples of films that work and ones that don't. I'm quite a visual person and being able to see those principles at work on the screen made it all click into place.
(To my husband's horror I've now developed an annoying habit of watching movies and indentifying the elements Blake talks about in the book. It might drive him nuts, but for me each time I can see a movie work well it reinforces the idea of story arc and tempo.)
I don't reread Save the Cat while I'm writing the first draft of a story since I'm a panster who loves being taken for a ride by my characters (and up the occasionally blind alley…) However, once the editing starts, I'll skim through it again to remind me to pay attention to the story arc and heighten the tension.
And the name of the book is timely nudge. If your hero can do something worthy (ie save the cat) then readers are more likely to love your character from the beginning!
So, have you read Save the Cat? Did you love it or hate? Did it help? What's your favourite craft book?
Always love a good debate J
Me again. Thanks Helene so much for visiting. I'm ashamed to say I have Save The Cat sitting on my shelf and haven't yet read it properly. That is of course about to change.
Shattered Sky - February 2011 – Hachette Australia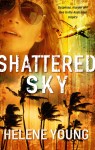 Surviving a missile strike on her aircraft suddenly seems like the easy part for Lauren Bennett. A year after being attacked mid flight, Lauren is sure she's overcome her guilt at losing a friend in the ensuing crash. Her brittle, glossy veneer doesn't fool Callam Granger, though. But the naval patrol boat captain knows he's got no right to an opinion. He wasn't there when she needed him most and she's not going to let him forget it.
On a routine surveillance assignment Lauren uncovers an operation trafficking sex slaves. Pursuing the women – and their captors – will take her deep into the Australian outback and a reluctant Callam knows this time he can't let her go alone. Is it possible for Lauren and Callam to put aside old enmities to outwit, outrun and ultimately out-fly the traffickers? Or will the frantic race to free the women simply ignite their emotions, endangering yet more lives?